Modvigil vs. Modalert vs. Waklert vs. Artvigil
Modvigil vs. Modalert vs. Waklert vs. Artvigil…Jake, what on earth are you talking about?
I just want to buy some Modafinil. Just tell me where to buy the best damn Modafinil around!
Relax, that's exactly what we're going to discuss here.
See, there's no wrong choice when buying Modafinil online – as long as you buy from a reliable vendor. The smart drug, its cousin nootropics, and more can all be exceptionally effective.
The key is finding which nootropic works the best for your needs.
As each one of us is different, you may react better to Waklert – while I prefer Modalert. It all comes down to what works for YOU.
With that being said, I've tried every one of these smart drugs.
So I wanted to break down the differences between Modvigil vs. Modalert vs. Waklert vs. Artvigil in a detailed article.
My goal is to help you decide which nootropic is ideal for your personal needs and goals. So let's get going.
In this detailed guide, we'll discuss:
If any of the specific sections above interest you, then click on the link to be taken to that exact place.
For a general overview of the best smart drugs around, just keep on reading this in-depth guide. Everything you need to know about Modafinil and Armodafinil brands is discusses below.
Oh, and one final thing…
---
P.S: While I'm confident in my recommendations, I'm certainly not a doctor or medical professional. Nor am I a lawyer. As such, all information should be taken as entertainment. See a medical professional before taking any supplement or pharmaceutical drug – like Modafinil or Armodafinil. Also, please read my disclaimer too.
---
---
The Basics
The four smart drugs listed here, Modvigil vs. Modalert vs. Waklert vs. Artvigil, are the most popular generic versions of Modafinil or Armodafinil.
Modvigil and Modalert are Modafinil products, and Waklert and Artivigil are Armodafinil nootropics.
These products are produced by two pharmaceutical companies in India, SUN Pharma and HAB Pharma.
P.S: The Armodafinil vs. Modafinil debate rages on…
Traditionally, both of these companies have been known to produce high-quality products.
Personally, I've found SUN Pharma products to be a little stronger and more consistent, but others rave about HAB Modafinil.
As always, we'll all react differently to different pharmaceuticals and smart drugs.
---
---
Smart Drug Benefits 
As all the smart drugs above have similar benefits, I'll list them here instead of going over each product alone.
Below, you'll find detailed information on what each drug does in comparison to the others.
However, every one of these nootropics is used for similar benefits, including:
Promoting Wakefulness
Increased Focus & Concentration
Improved Cognition
Longer Attention Spans
Greater Productivity
Potential Weight Loss Benefits
Amazing For Hangovers
…And More!
Again, each of these unique smart drugs may have different benefits when compared head-to-head.
But generally, each of these nootropics will offer the benefits above in some way, shape, or form.
Overall…
This nootropics have far more in common than differences.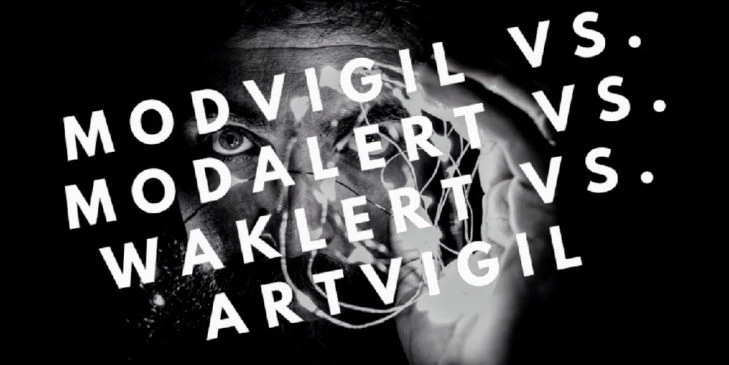 ---
Generic Modafinil | Benefits, Side Effects, and Comparison
Below I'll breakdown each of the generic Modafinil products, their benefits, comparisons, pricing, and where you can buy them online.
A true smart drug showdown.
Enough of my fluff…
Here we go:
What is Modvigil?
Modvigil is a brand of Modafinil that's produced by HAB Pharma. The brand is known worldwide, and there's a decent shot that the first Modafinil you'll consume will be in the form of Modvigil.
When compared with Modalert, most users find Modvigil is not as strong or pure.
Some even claim that Modvigil is not a true form of Modafinil. This simply isn't true. Modvigil is real Modafinil 100%.
So who is Modvigil good for?
Well, I recommend a few people take Modvigil. First, Modvigil is the cheapest Modafinil on the market. If you're on a budget, this is the strong, smart drug for you.
Just look at this pricing for 200 mg of Modafinil:
That's right! You can get Modafinil for just $0.80 per 200 mg pill. That's a bargain if I've ever heard one. Modvigil is pretty cheap.
Another benefit of Modvigil is that the half-life is a little shorter than Modalert. Modalert tends to last 12-14+ hours. On 200 mg of Modvigil, you should only expect to feel effects for 9-12+ hours.
For users looking to get a good nights sleep, Modvigil may be an improvement over other Modafinil products.
Again, this depends on how you react to the drug and what you want from it.
Overall: Modvigil is best for individuals new to Modafinil, looking for a shorter half-life, or have found Modalert to be too strong. It's also cheap.
---
What is Modalert?
Modalert is the best selling and highest quality generic Modafinil available.
Most people who order Modafinil online will end up getting Modalert, and that's a good thing! The drug is produced by SUN Pharma.
Personally, I've found Modalert to be the best smart drug on the planet, and I'm not alone in that regard. Many CEOs, digital nomads, and students have found great benefits taking this smart drug.
When compared with Modvigil, Waklert, and Artvigil – many have found Modalert is the strongest nootropic. I know I did. If you want a powerful 200 mg of Modafinil, then this is the nootropic you're looking for.
Modalert has a long half-life of around 12-14+ hours when consuming 200 mg. The drug can offer minor side effects like sleeplessness and diarrhea. For most users, these effects don't cause many issues.
Modalert is more expensive than other brands of generic Modafinil. Here are a few prices I've found:
$0.98 per 200 mg of Modalert is not a bad deal at all.
Other vendors have lower prices.
Still, it should be noted that Modalert tends to always be pricier than other forms of generic Modafinil. You pay for the highest quality and "brand" name.
If you're looking for the premier generic Modafinil brand on the market, then you'll want Modalert. This smart drug is stronger, lasts longer, and has an amazing reputation.
Overall: Modalert is best for individuals who have used smart drugs or Adderall before, people who want the strongest nootropic possible, or others who find confidence in buying the most popular form of Modafinil.
---
Modvigil vs. Modalert
I've already dug pretty deep into the Modvigil vs. Modalert debate above.
But let's further clarify things fore everyone reading along…
I've personally found that:
Modalert is the BEST nootropic product on the market.
Bar none.
If you're looking for 12+ hours of cognitive enhancement and budget is no problem, then this is the smart drug you want and need.
On the other hand…
Modvigil isn't far off.
The nootropic works damn well and offers impressive cognitive benefits…at a lower price.
If you're looking for a cheap form of generic Modafinil, then this is it, chief. Modvigil works and will get the job done.
It's just not as strong as Modalert from my experiences.
TL:DR…
Modvigil vs. Modalert?
Modalert is a little bit stronger and overall, just better. However, Modvigil much cheaper and offers similar benefits.
Generic Armodafinil | Benefits, Side Effects, and Comparison
Below I talk about the two most popular generic Armodafinil products on the market. I breakdown the benefits, side effects, cost, and more.
Another smart drug showdown for you..
Let's dig in:
What is Waklert?
Waklert is the best selling Armodafinil on the market and produced by SUN Pharma. What is Armodafinil?
Well, it's something like Modafinil's cousin. See, Armodafinil is made with the same active ingredient as Modafinil – except the chemical structure is changed to ensure that only the potent ingredients are found in Armodafinil.
For some, this makes Armodafinil and Waklert a stronger alternative to Modafinil. For others like me, I found Armodafinil just wasn't as potent as Modalert.
Overall, most users find Waklert is potent, but not as long lasting or strong as 200 mg of Modalert.
Most people feel Waklert offers similar effects to Modafinil between hours 2-7+ after consumption. Then the half-life begins to fade. With Modafinil, the half-life doesn't start to fade until hour 10 or so.
What does this mean? Waklert is better for smart drug users who need to get to bed at a decent time every night.
Modafinil will keep you up late, but Armodafinil lets you get some sleep.
It's important to note that the recommended dose of Waklert is 150 mg compared to 200 mg of Modafinil. This is due to the potency of the active ingredients.
Price-wise, you'll find Wakalert to be fairly costly. Armodafinil is a newer pharmaceutical drug, and the generic hasn't gained too much popularity yet:
That's not a bad price. $1.00 per 150 mg pill of Waklert is more than reasonable.
Being able to buy Waklert at prices similar to Modalert is incredible and a great deal for anyone interested.
Overall: Waklert is the best form of Armodafinil on the market. Armodafinil is similar to Modafinil, but with a shorter half-life. If you only need to get 6-8 great hours of work done each day, this is the smart drug for you.
---
What is Artvigil?
Artvigil is another form of Armodafinil and produced by HAB Pharma. It's not nearly as popular as Waklert, but I still wanted to test it out.
Overall, I wasn't too impressed. If you want to buy Armodafinil, you're better off with Wakalert 100% of the time.
The only reason to buy Artvigil is that it's cheaper than Wakalert:
You'll still feel Modafinil-like effects from this smart drug.
However, every other drug on this list is stronger.
There's simply not many reasons to invest in Artvigil over the other nootropics here unless you truly just want a cheap form of generic Armodafinil.
Waklert vs. Artvigil
Now, I believe I've made myself clear with regards to the Waklert vs. Artvigil debate.
While I found Modalert vs. Modvigil to be somewhat comparable, I have to say I far prefer Waklert over Artvigil.
While there's no doubt in my mind Artvigil works and will give you solid smart drug benefits, I believe Waklert is far superior here.
There's no reason to buy Artvigil because it's cheaper than Waklert.
If you want cheap, go with Modalert.
If you want the best generic Armodafinil, then go with Waklert.
Waklert vs. Artvigil?
Unless you really want the cheapest form of generic Armodafinil around, I recommend sticking with Waklert.
I've found Waklert superior to Artvigil when testing the nootropics multiple times.
---
The Verdict? | Smart Drug Showdown Edition
Modvigil vs. Modalert vs. Waklert vs. Artvigil?
Four of the most popular, potent, and important nootropics on the market today.
Overall, I hope the guide above helped you decide which smart drug to choose or buy.
–> Modalert is my personal favorite, followed by Wakalert on nights when I want to get a full night of sleep.
Personally, I recommend these two products over the others.
However, every one of us is different. You may want to test out a bunch of smart drugs, like I did, before deciding what to settle on.
If that's the case, click the obnoxious, big red button below and grab a sample pack from my favorite vendor.
That sample pack comes with all four products listed above and will help you make your own conclusions about which smart drugs work best for you…
---