6 Fantastic Modafinil Alternatives That Actually Work
I started using Modafinil alternatives out of necessity.
As I quickly learned you had to cycle the smart drug. Using Modafinil is a great idea, abusing the nootropic isn't.
See what had happened was…
I was actually working for the first time in quite some time. Based up in a small beach town in Peru, I went to the gym in the morning.
Then I'd down a protein shake while taking in the view from the beach. The water was cold. I had no desire to swim. After that, I'd eat some food. Quick shower.
Then I'd pop a Modafinil.
The work day was about to begin. I'd sit and type away for hours on end. Every single day.
I was taking Modafinil at least five days a week.
But something happened.
Towards the middle of the third week, my body started to feel ill. I could barely get out of bed in the morning. My lifts in the gym dropped by 20% overnight. I was coughing throughout the day.
Something wasn't right. And surprisingly, I hadn't been drinking or partying at all. But I felt worse than I did during my functional alcoholic days.
What had happened? I was taking way too much Modafinil and my body didn't like it.
But enough about me! In this detailed guide, you'll learn about:
Feel free to click the link above and skip ahead to the information you're specifically looking for.
Or just follow along as I breakdown everything you need to know about Modafinil alternatives that don't require a prescription.
---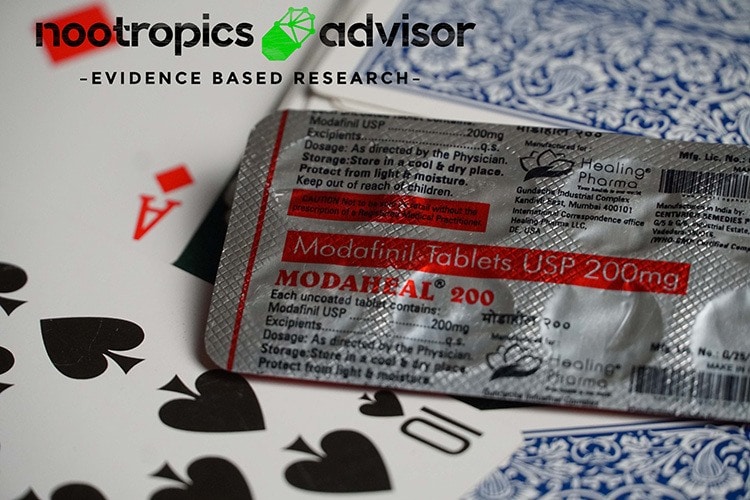 ---
P.S: It must be noted that I am not a doctor or a lawyer. The information presented here is not legal or medical advice. My recommendations for individuals looking for Modafinil alternatives is simply entertainment. Always consult a medical professional before consuming any nootropic. Please read my disclaimer too.
---
Modafinil is Amazing…In Doses
Modafinil is the standard for digital nomads and hustlers looking for a smart drug to boost productivity.
And there's a damn good reason for that.
There's no denying this "Limitless-like" pill offers great benefits to productivity and overall production.
So what's the need for Modafinil alternatives then…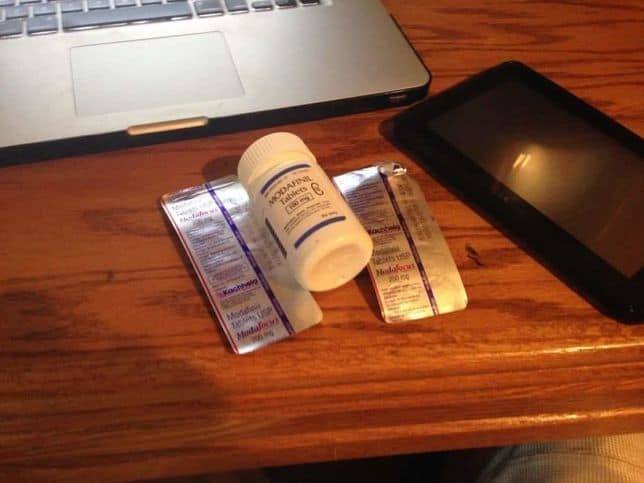 Well, there's a couple.
First, one should only take Modafinil so many times each week and month.
While the side effects can be marginalized with proper dosing and scheduling, there's no denying the smart drug isn't the healthiest thing to put in your body each and every day.
Thus, during weeks when producing for 10-12 hours each and every day is required, one needs Modafinil alternatives to turn to.
It's simply not good for the body to pop Modafinil every single day.
You need to rotate your smart drugs, fam.
Other people look for Modafinil alternatives, as they don't want to deal with some of the minor hassles it takes to get your hands on Modafinil.
You either have to get Modafinil online or get a prescription from a doctor.
Thus, it's many people find that ordering a Modafinil alternative is far easier than ordering the real deal.
6 Fantastic Modafinil Alternatives That Actually Work
Once I realized taking Modafinil damn near every day wasn't the healthiest thing in the world, I quickly started researching Modafinil alternatives.
While I've yet to find something that works as well as the "Limitless-like" drug, the alternatives to Modafinil do work well.
I've personally tested each one and found them to be quite beneficial.
So without further ado, here are a few Modafinil alternatives that work:
If you're looking for the premier legal Modafinil alternative on the market, then look no further…
Adrafinil is it.
The smart drug is 100% legal in the United States, can be purchased with a credit card, and ships quickly.
But not only that, the nootropic just works.
Adrafinil is something like Modafinil's cousin. The stuff converts to Modafinil upon ingestion.
As such, the effects of Adrafinil are eerily similar to Modafinil. However, Adrafinil is not nearly as strong as Modafinil and it doesn't last as long after taking it.
With Modafinil, you tend to get 10-12+ hours of straight focus. The smart drug tends to kick in within an or so after taking it.
With Adrafinil, it usually takes around 90 minutes to start "feeling" the smart drug. Then it only last for around 7-8+ hours. Not a full 12+ hours like Modafinil often does.
But enough of my fluff, if you're looking for a great Modafinil alternative…
Then Adrafinil is a damn good place to start.
---
~ Armodafinil
It's a bit of a stretch to label Armodafinil as a Modafinil alternative. I get that.
But I've found Armodafinil to be a little different than Modafinil is. My body reacts differently to the stuff, so it can be used as an alternative. Yours might too.
Armodafinil is the little brother to Modafinil. The stuff is considered a pharmaceutical drug just like Modafinil is.
The only difference?
Armodafinil only has one of the active ingredients, while Modafinil has two of them.
This means that Modafinil might be just a little bit stronger overall, but Adrafinil passes through the system a bit quicker and usually offers far less side effects.
If you're looking to work for 9-10+ straight hours and still get a good nights' sleep, then Armodafinil is absolutely ideal.
If you want 12+ hours of focus, stick with Modafinil.
Don't get me wrong…
Armodafinil is still potent and powerful stuff. It's just easier to get a good night of sleep after taking Armodafinil.
---
~ Alpha BRAIN

Personally, this is one of my favorite Modafinil alternatives.
Why? Because it's so easy to get and the side effects are minimal.
Alpha BRAIN by Onnit Labs is a strong smart drug that ensures you'll stay focused and churning out content for 5-8+ hours.
Offering a plethora of ingredients considered nootropics, Alpha BRAIN just works. While the "high" isn't as strong as Modafinil, there's no denying this smart drug is healthier for you than others.
Plus, you won't have to deal with a coming down effect while on Alpha BRAIN. There's no "Modafinil hangover" when taking this smart drug.
If you're looking for something that works but isn't too strong – this product from Onnit Labs fits the bill.
---
~ Sulbutiamine

Recently, I tested out a new nootropic at the encouragement of a buddy, Sulbutiamine.
I was skeptical at first, but I figured it wouldn't hurt to try out a new smart drug one time.
I'm glad I tried out Sulbutiamine, as this Modafinil-like drug worked wonders for me. I'm talking a solid 7 hours of pure focus and productivity. As a synthetic variation of Vitamin B1, the nootropic can cross the blood and brain barrier.
Now, I don't know exactly what that entitles, and I'm not going to start taking this drug every single day.
However, if you're looking for an alternative to Modafinil that is STRONG and can reduce fatigue and improve cognitive function, Sulbutiamine is a good place to start.
I recommend only taking this smart drug once every two weeks. I didn't feel amazing the morning after taking this nootropic the first time, but the productivity was quite impressive while on it.
---
~ Neuro-Peak

I stumbled upon Neuro-Peak by Zhou Nutrition on accident. The company sent me a bottle for free to test out after I purchased another one of their products.
It was a nice gesture, but I didn't have high hopes for the product.
Then I tried Neuro-Peak. Sure, it wasn't like taking Modafinil, but I was pretty darn productive the first day I took this nootropic. Seven straight hours of production is nothing to laugh at.
Neuro-Peak is a smart drug made of a few ingredients, including DMAE. DMAE is said to increase the production of a powerful neurotransmitter in our brains, acetylcholine. By increasing the neurotransmitter, one can increase their cognitive abilities.
For digital nomads on a budget looking for a smart drug that makes a great Modafinil alternative, I definitely recommend Neuro-Peak.
This nootropic is quite cheap!
---
~ Red Monkey

While Red Monkey by Red Supplements is a nootropic, it's not always used to increase productivity.
It's actually a smart drug that many use in social situations, like going to a nightclub sober. 
However, I tested Red Monkey out as an alternative to Modafinil one day, and I was impressed by the results. The smart drug is made out of Phenibut, an ingredient used to create a feeling of well-being and happiness.
As such, I truly enjoyed working the day I took Red Monkey as a nootropic for productivity.
You won't have laser sharp focus when taking Red Monkey, but you'll feel happy to be working while on it. I was able to work for around 8 hours and had a blast doing some mundane tasks I usually dread.
I highly recommend taking Red Monkey on days where you need to complete tasks you normally dread. Boring tasks will be much more enjoyable on this Modafinil alternative.
---
Finding the Perfect Smart Drug For Your Needs
I love Modafinil, but cannot take the drug every day. That's just the way it is.
I need to rotate my smart drugs.
So I tested out this list of alternatives to Modafinil and was pleasantly surprised with the results.
Give a few of the smart drugs above a try and see if they work for you or not. Modafinil is the king of smart drugs for a reason, but the alternatives above won't disappoint.
Te lo juro.
If you have any questions, comments, or concerns about the Modafinil alternatives listed above…
Feel free to sound off in the comments below and I'll do my best to get back with the information you need.
More Modafinil content:
---
References: