How to Buy Modafinil in Denmark | What You Must Know
Curious about how to buy Modafinil in Denmark these days?
I've got some good news for you then:
It's easier than you think.
Although it's technically illegal to buy Modafinil without a prescription in the country, it doesn't appear that the Danish government gives a hoot.Generally, you won't face any legal issues for using the world's most popular smart drug it or even importing Modafinil in small quantities – under 300 servings.
For all my Danish readers and expats in the country, this is great news…
---
While the nootropic is concsidered prescription-only in Denmark, you may also buy Modafinil online without any issue – no matter if you have a prescription or not.


---
However, there's a little bit more to it than that…which is why I created this in-depth guide for you.
Inside this comprehensive post, you'll find everything you need to know about buying Modafinil in Denmark.
I'm talking specific details and things like:
For the specific information you need to succeed, click the link above, and you'll be taken to that exact section of the article.
For a general overview of how to buy Modafinil in Denmark, keep reading along here.
---
I am not a doctor or a lawyer. This is not legal or medical advice. This guide/article is strictly for entertainment. Always consult a medical professional before consuming any nootropic such as Modafinil. Always abide by the laws of your country. Oh, and please read my disclaimer page, too.
---

---
What is Modafinil?
For anyone who is unfamiliar with Modafinil, I'll go over the basics real quick.
Originally designed as a prescription drug, Modafinil is currently considered by many to be a pharmaceutical-grade medication to enhance the mind. Often referred to as a nootropic or smart drug.
These smart drugs have been in circulation for a long time amongst the cognitive elite — Wall Street CEO's, Ivy League grad students, and Silicon Valley software engineers — have all been using this stuff to reach insane levels of productivity for years.
But Modafinil wasn't created to offer insane cognitive benefits for high-achievers. That happened by mere accident.
Here's how:
Modafinil was first synthesized in the 1970s as a narcolepsy treatment method in France (Source).
Narcolepsy, if you don't know, is a disease whereby the individual falls asleep uncontrollably at random throughout the day.
The stuff was designed to keep individuals awake at all times, without fail. What the French psychiatrists didn't know was that Modafinil improved a lot of cognitive functions – on top of fighting fatigue.
In healthy individuals, Modafinil offered an insane cognitive boost. This boost led to Modafinil being considered the world's most popular nootropic.
Nootropics are drugs that may improve cognitive function, mainly executive functions. We're talking improved memory, creativity, or motivation…in healthy individuals.
In short, they make you better at tasks that require high-level brain function.
Anything that benefits from extended periods of distraction-free focus is ripe for a Modafinil boost. Almost everyone that I talk to experiences a productivity increase when taking the good stuff.
Modafinil offers a range of benefits to many, including:
Improved productivity
Enhanced cognitive functions
Improved memory retention
Combatting fatigue
Preventing sleep onset
You have to be careful with this stuff because it's powerful, but if used correctly, it can be a boon to your job, business, or side hustle.
Is Modafinil the Real-Life Limitless Pill?
No!
You won't become a millionaire overnight. You won't write a novel within a short period of time on this stuff. There's no such pill that can do that – or will ever be able to do that. But I'd venture to guess Modafinil is the closest thing to it.
Why?
Because it allows you to focus intensely on a single task for inhumanly long periods of time.
That's why people love Modafinil so much…
---
Is Modafinil Legal in Denmark?
Similar to many other European countries…
The legality of Modafinil and other nootropics is a bit of a grey area in Denmark.
Here's why:
Modafinil is 100% legal in the country…but only if you have a prescription.
A prescription from a Danish doctor!
That last part makes things a bit more difficult for those of us looking to enhance cognition. Why? Because in Denmark, doctors will *only* prescribe Modafinil for the treatment of narcolepsy (Source).
So if you are unfortunate enough to suffer from narcolepsy, you can get the pharmaceutical drug through legal means.
You can simply walk into a pharmacy with your Modafinil prescription from a Danish doctor and walk out with the world's most popular smart drug.
For the rest of us, this isn't an option.
Danish doctors aren't prescribing Modafinil for individuals who strive to increase cognition and productivity.
Luckily, that's not too big of a deal these days.
Why?
Because you can easily buy Modafinil online in Denmark.
---
---
Where to Buy Modafinil Online in Denmark | Your 2020 Guide

If you're ready to buy Modafinil online in Denmark as a local or expat, below you'll find my top recommendations. As I've been buying Modafinil online for years, I've had both the pleasure and pain of ordering from over a dozen online vendors.
Some of them have been fantastic. Others not so much.
Luckily, you'll find only my top recommendations below.
All these vendors ship high-quality generic Modafinil to Denmark with guaranteed shipping. That means you get your Modafinil or you get your money back. This allows you to buy with confidence.
Here's where to buy Modafinil in Denmark:
An excellent European-based Modafinil pharmacy for the Danish folk is Eufinil.
Eufinil isn't quite as all-around awesome as Buy Moda, but it has some really nice benefits for anybody who happens to live in the EU.
Here's just a short list of what Eufinil delivers:
Reasonable Pricing for Small Batches: Eufinil isn't quite the cheapest for huge bulk orders, but it has the benefit of offering small convenient batches. This is ideal if you're new to Modafinil and want to test the waters.
UBER-fast shipment within the EU: Shipments range anywhere from 1-15 days after your order. The good news is that the real average is about 2-6 days in Denmark. That's lightning-fast compared to most delivery times on generic medications.
Discreet packaging: This is not likely to be a real issue, but it's nice to know that a nosy roommate or other people won't know that you're getting your biohacking on. Privacy never hurts — that's for sure.
Money-back guarantee: Customs don't seize packages very often, but it does happen. It's nice to know that if customs takes your order, or it doesn't arrive for any other reason, you can get your money back.
As you can see, Eufinil is an absolutely fantastic option if you're interested in getting your hands on Modafinil. It's a vendor that caters splendidly to the European market.
Overall, I'm a huge fan of Eufinil for anyone living in Denmark.
Highly recommended!


---
Another great Modafinil vendor for individuals living in Denmark is ModaPharma.
Here's the deal with ModaPharma. They're the safety net of the Modafinil vendor world. If nowhere else has your back, ModaPharma does.
You guys have options in Denmark, but here's what you can expect from ModaPharma.
World-Wide Shipping: They ship just about everywhere. No matter where you find yourself on this floating rock, you can get your Modafinil delivered.
Wide Selection of Products: You can get all your favorite generic options. These include Modalert, Modvigil and Artvigil.
Guaranteed delivery: Another vendor that has a money-back guarantee. Always nice to have a little insurance, in case there are any mishaps.
But ModaPharma does one thing better than anyone else in the Modafinil industry these days…
They text every batch of product for purity and quality before shipping out. This ensures you get 100% legit Modafinil with every order — which is what you want!
Overall, I've had success with my orders from these guys.


---
Brand Name Modafinil and Armodafinil in Denmark
A lot of people get confused about what exactly is Modafinil and what's not, mainly because there's a handful of different generic names for the stuff.
So I wanted to clear some air here about the most popular brand names of Modafinil and Armodafinil in Denmark. By the way, if you're curious about how Modafinil and Armodafinil differ, you can learn more about the two smart drugs here.
Here are the most common generic products you'll find in the country:
~ Brand names for Modafinil
~ Brand names for Armodafinil
All of these products achieve the same result, although some people seem to prefer one over the other. Provigil and Nuvigil tend to be the premier brand names sold in pharmacies around the world, although TEVA produces a 'Modafinil' product sold in Denmark pharmacies.
For generic Modafinil products, I find Modalert to be preferable, although Modvigil isn't bad at all and can be cheaper.
When talking generic Armodafinil in Denmark, I find Waklert to be the premier product. Artvigil tends to be cheaper.
Overall, you can't go wrong with any of the products listed above.
If you're unsure which product is ideal for your needs, I recommend buying a sample pack and testing four of the most popular products. These sample packs tend to be fairly inexpensive and allow you to find out what Modafinil product your body responds best to.
---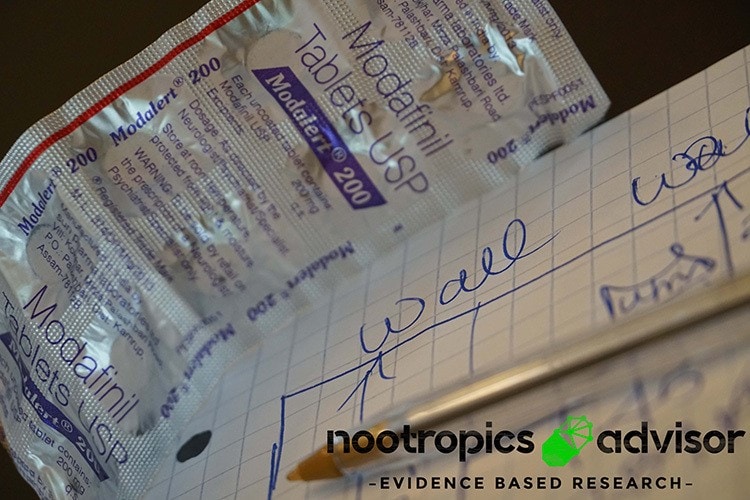 ---
Other Nootropics in Denmark
There is nothing quite like Modafinil in terms of cognitive enhancement. It's the king of nootropics, end of story.
But there are a few other nootropics that are extremely impressive in their efficacy and potency.
There are two that I think are especially worth checking out.
Mind Lab Pro is the best all-around nootropic not called Modafinil I've ever found. Trust me, I've tried a lot of nootropics in my day, so that's saying something.
Mind Lab Pro has a few things going for it. Firstly, it's got a blend of 11 different compounds that each target different areas of mental performance.
This means it helps everything from memory recall to reducing brain fog to helping boost mood. In terms of bang for your buck, Mind Lab Pro is the real deal.
Now in the name of honesty, it's not as powerful for as long as Modafinil; nothing is. It'll give you about 6-8+ hours of extremely high-level focus. It's not Modafinil's 10-14+ hours of focus, but that's enough to do some serious work.
Because it also targets a few areas that Modafinil doesn't, you also get some novel benefits, like a moderate boost to creativity.
Lastly, Mind Lab Pro has been consistent in its effects. I've never been disappointed when I've used it yet, and that's been a few months of regular usage.
It's what I recommend as the first alternative you should use when taking a break from Modafinil. If you want the best damn legal alternative to Modafinil, it's called Mind Lab Pro.
---
---
Adrafinil works similarly to Modafinil because what you ingest is a compound that turns into Modafinil once it enters the body, which is why it isn't quite as powerful (Source).
Like I always preach about nootropics:
Rotation, rotation, rotation.
At any given time, I've got a whole host of different nootropics on hand. From coffee to Modafinil and everything in between. This is why I never personally have any dependency issues, physically or psychologically.
Adrafinil can still give you a significant focus boost for 6-8+ hours if you need it.
One last tip is to take two 300 mg capsules spaced about 3-4+ hours apart. That can give you a somewhat Modafinil like 10+hour performance boost.
Just make sure not to take it after 11:30 A.M if you want to sleep at a reasonable time at night.
But remember, nothing is quite as potent as pharmaceutical grade Modafinil. Adrafinil, like Mind Lab Pro, is a potent alternative to cycle in and out of your daily routines.
---
Buying Modafinil with Cryptocurrency in Denmark
For all the benefits that Modafinil can bring the curious student, entrepreneur or med student — there is one downside. It can be a bit hard to afford. This isn't the case for the already wealthy CEO, but for the average college student, it's a real problem.
Thankfully, I have a novel solution.
If you order Bitcoin and make your payment with it, you can get a 35% discount on your Modafinil order!
That's right — no missing rent due to trying a nootropic. If you pay with Bitcoin, the 35% discount can be yours.
You might be worried about this. I understand I'm not a cryptocurrency nerd myself. You don't have to be either. If you've never bought or used cryptocurrency, ill make it easy for you.
Go on over to my favorite crypto exchange…
Head on over there and create an account. Then, go ahead and place your order on your preferred Modafinil vendors website.
Why do this first? Well… you see, you need to know exactly how much Bitcoin to buy first. So go ahead and complete your order. You can then see how much Bitcoin you need to buy.
Use your new Coinmama account and buy enough Bitcoin to cover the order. Make sure when you choose the option to pay with Bitcoin, you send the exact amount necessary.
This fluctuates depending on the market value of Bitcoin, but you'll be able to see exactly how much Bitcoin you need to send to cover the order.
That's all there is to it. Pay in Bitcoin, and you get a huge discount!
---
The Verdict? | Denmark Edition

That's about all I have for y'all today.
If you're looking to buy Modafinil in Denmark, this article should offer every bit of information you need to succeed. It's got the ins, the outs, the ups, the downs.
For real, there isn't anything else you need to know about buying Modafinil with a prescription or online in Denmark…as a local or expat.
Still, last but not least…
If you have any questions, comments, or concerns about making your first Modafinil purchase, legalities, or anything of the sort — just comment below, and I'll get back to you.
---
---
References